Wedding season is in full swing and if you're still looking for hair inspiration, look no further than the rainbow! These looks will make your wedding day stand out, from bright pinks to deep purples. Keep reading for photos of gorgeous rainbow hairstyles that you can copy for your big day. Happy planning!
Rainbow wedding hair: how to add a touch of color to your big day
Your wedding day is all about you and your fiance, so why not add a little something extra to make it even more special? A rainbow wedding hairstyle is a perfect way to add a touch of color to your big day. Whether you want to go all out with a colorful mane or add a few streaks for a subtle pop of color, there are plenty of ways to incorporate rainbows into your wedding hair.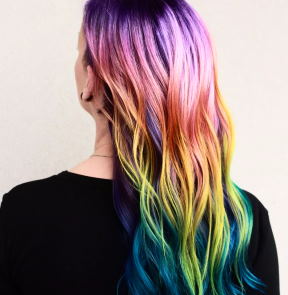 If you're looking for a unique wedding hairstyle, consider going for a rainbow-colored updo. This fun and festive hairstyle are perfect for summertime weddings or any event where you want to stand out from the crowd. To get this look, start by parting your hair down the middle and then use colored hair extensions to add streaks of color throughout your updo. You can also incorporate colorful flowers or ribbons into your updo for an even more whimsical look.
For a more subtle way to add rainbows to your wedding hair, consider adding a few streaks of color to your locks. This is a great option if you're not ready to go all out with a full-on rainbow hairstyle. To get this look, start by coloring small sections of your hair with temporary hair color. Then, use a fine-toothed comb to backcomb the colored sections to create definition and volume lightly. Finally, finish off the look by spraying on some high-shine hairspray for extra hold and shine.
No matter how you incorporate rainbows into your wedding hair, remember that the most important thing is to have fun with it. After all, it's your big day! So experiment with different colors and styles until you find the perfect look for you and your fiance.
Rainbow hair for your wedding: how to stand out in the crowd
Your wedding is a special day when all eyes will be on you. So why not make a statement with your hair? Rainbow hair is a fun and unique way to show off your personality and style.
Not sure how to rock rainbow hair on your wedding day? Here are some tips:
Choose the right color scheme.
The key to pulling off rainbow hair is choosing the right colors. Naturally, you want to pick a scheme that compliments your skin tone and overall look. If you're unsure what colors will work best for you, consult a professional stylist.
Go for a bold look.
When it comes to rainbow hair, more is better. So don't be afraid to go big and bold with your colors.
Be prepared to maintain your color.
Rainbow hair requires a lot of upkeep. Be prepared to touch up your roots and re-dye your hair every few weeks.
Embrace the chaos.
Rainbow hair can be unpredictable, so go into it with the mindset that anything could happen. Be prepared for some trial and error before you find the perfect color scheme for you.
Have fun!
Above all, don't take yourself too seriously. Rainbow hair is all about having fun and expressing yourself. So let your personality shine through!