When it comes to your wedding day, you want to look your best. So, why not enhance your natural beauty with some flattering eye makeup? These bridal eye makeup tips will help you achieve bigger, brighter eyes that make you look picture-perfect for your big day. Trust us – we're experts!
Eye makeup for bigger-looking eyes
Your wedding day is one of the most important days of your life, so you want to look your best. That includes your makeup. Your wedding day makeup should be special and unique, just like you.
When it comes to your eyes, you want to make them stand out. After all, they're one of the first things people notice about you. But how do you make your eyes look bigger and more beautiful on your big day?
Here are some tips for creating stunning bridal eye makeup:
Start with a clean slate. Be sure to wash your face and remove any existing makeup before starting your wedding makeup routine. This will help create a smooth canvas for applying your new look.
Prime your eyes. Use an eye primer to help create a smooth base for your eye makeup. This will help your shadows and liners go on more evenly and last longer.
Choose light colors. Opt for light colors like champagne, ivory, or pale pink when selecting eye shadows. These hues will make your eyes look bigger and brighter. Avoid dark colors, which can make your eyes look smaller.
Create a smoky effect. For a dramatic look, use a darker shadow in the crease of your eyelid and blend it outwards. This will create the illusion of bigger eyes.
Line your eyes. A thin line of black eyeliner along your upper lashes will make your eyes look bigger and more defined. You can also extend the liner slightly beyond the outer corner of your eye for a cat-eye effect.
Curl your lashes. Curling your lashes will help open up your eyes and make them appear bigger. Be sure to use an eyelash curler before applying mascara.
Apply mascara. A few coats of mascara will help lengthen and thicken your lashes, making your eyes pop. Choose a waterproof formula to help prevent smudging or flaking throughout the day.
Add falsies. Consider adding false eyelashes if you want to make your eyes stand out. Individual lashes are a great option for creating a natural-looking effect.
Highlight your brow bone. Applying a light-colored eyeshadow or highlighter below your brow bone will help brighten and open up your eyes.
Finish with a touch of shimmer. For a bit of extra glamour, apply a shimmery shadow to the inner corners of your eyes. This will help reflect light and make your eyes look even bigger.
By following these tips, you can create stunning bridal eye makeup that will make your eyes look their best on your big day.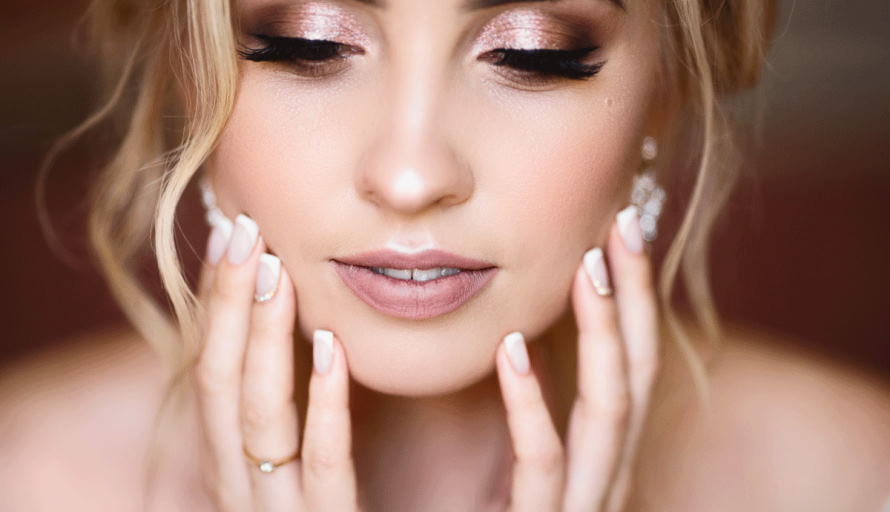 Eye enlarging bridal makeup tutorial
This tutorial will show you how to achieve an eye-enlarging bridal makeup look using some simple techniques.
First, start by applying a light eyeshadow all over your lid. This will help to create a smooth canvas for the rest of your shadows. Next, take a medium shade and apply it to your eye's crease. Again, make sure to blend well so there are no harsh lines.
Now it's time to add some drama! Take a dark shadow and apply it along your upper and lower lash lines. Then, smoke it out slightly for a more dramatic effect. Finally, add some mascara and false lashes if desired. And that's it! You've now achieved an eye-enlarging bridal makeup look.